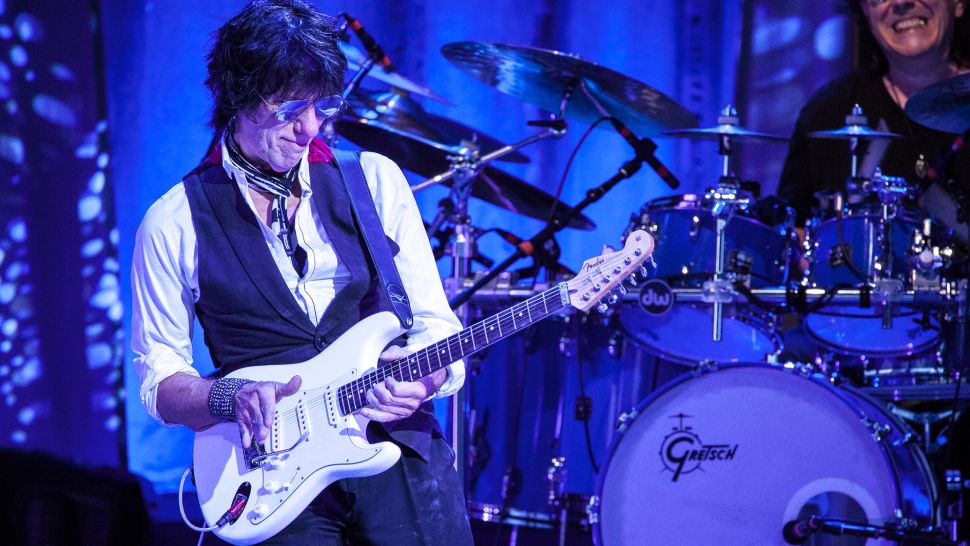 Ode to Jeff Beck: Steve Vai, Joe Satriani, Vince Gill, Steve Stevens and more on why he's the guitar hero's guitar hero
By David Von Bader a day ago
Some of guitar's greatest names on Beck's influence, praising his mastery of the space between the notes and relentless pursuit of innovation
If you've spent almost any time at all immersed in guitar culture, you've undoubtedly realized that our guitar universe runs on idolatry. Guitarists need heroes. We crave inspiring figures to learn from – characters whose sounds and aesthetics we can analyze, fuse together and incorporate into our own identities as players.
We're a deeply reverent bunch that love signature- model gear, copping iconic licks as accurately as possible (Thank you, YouTube!) and partaking in the endless hunt for tones that recall the sounds of our favorite records.
And while the concept of the guitar hero is as old as rock 'n' roll itself, new heroes arrive for each new generation – with only the most remarkable players earning an immunity to the sands of time, capable of wielding influence over generation after generation after generation.
Among the proverbial High Court of Living Guitar Gods, Jeff Beck stands tall as the player other greats seem to most commonly point to when asked who they believe to be a truly worthy of the title. So we're just gonna go ahead and say it: Jeff Beck is the guitar hero's guitar hero.
Throughout a monastic life of guitar playing and a career chiefly marked by perpetual reinvention, Beck has provided seemingly infinite innovation on the instrument. Combining an otherworldly, fluid, dynamic touch, brilliant melodic sensibilities and a holistic approach that uses every last bit of a guitar, Beck's playing is something that, at its best, transcends the instrument altogether.
It becomes a disembodied voice screaming out from the bowels of a Marshall, a mythical Siren escaping the guts of a Strat only by the will of a tricky finger flicking a volume knob. The man can be seen applying chalk to his hands before he plays, but the chalk might as well be magic pixie dust, because there really is no other worldly explanation for the raw emotional content Beck can dredge from a guitar.
We could go on waxing poetic here – and we all know how much guitarists love hyperbole – but we've decided to do you one better and got some bonafide guitar heroes to make the point for us.
Gathered here to celebrate the true champion of the guitar that is Jeff Beck are noted players pulled from varied genre and generation, all titans of the instrument in their own right.
Our panel includes Steve Vai, Steve Stevens, Vince Gill and Joe Satriani, plus relative newcomers Tyler Bryant of Tyler Bryant & The Shakedown and Bones UK guitarist Carmen Vandenberg, who shared electric guitar duties with Beck on his latest studio album, 2016's Loud Hailer, an album that she also helped write. 
While their respective voices on the instrument are unique and diverse, every member of our panel is bound by deep admiration for the great innovator from Wallington, England, a fellow who's changed the game time and time again. And who knows what 2020 will bring?!